Main content starts here, tab to start navigating
Where We Started - 1956
Dairy Isle opened on the corner of Lakeview and Winchester (St Joseph, MI) in April of 1956. Our hometown Dairy Isle would become one among over 160 that opened in the midwest in the 1950s, and to this day is one of fewer than 40 still standing and operating as an ice cream shop. The franchise was advertised in St. Joseph's Herald-Press in 1952 as a no-experience-needed, startup business requiring a $9,000 investment, and promised up to $10,000-$12,000 in earnings per season (Roughly equivalent to what would be a $94k investment and promising $104-$125k in earnings/season today). Click here or copy and paste this link to learn a little more about the Dairy Isle franchise: https://www.roadarch.com/eateries/disle.html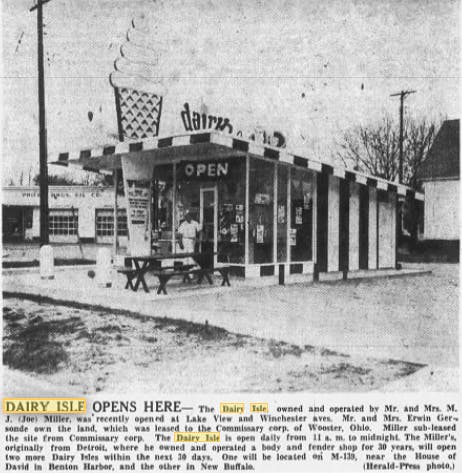 Erwin Gersonde of St Joseph, MI was granted a $7,000 permit to construct the prefabricated kit from Wooster, OH (Commissary Corp) for the shop in February of 1956 which would open its doors to the community just two months later.
Slide 1 of 3
Slide 2 of 3
Slide 3 of 3
Events Throughout Our History
With just over 65 years on our belt at the Korner, this establishment has shared a few turmoils and countless memories with locals and tourists alike, and we want to share some with you! From it's grassroots with the Miller's ('56) and Palleschi's ('60), to the Miceli's ('17), Dairy Korner has changed hands about 12 times total according to our research. Let's start back in 1958 with the Millers:
1958 - Hula Hoop Contest
Dairy Isle held a Hula Hoop Contest in 1958 for children aged 4-17, over 100 children tried their luck at winning prizes, and resulted in 4 big winners.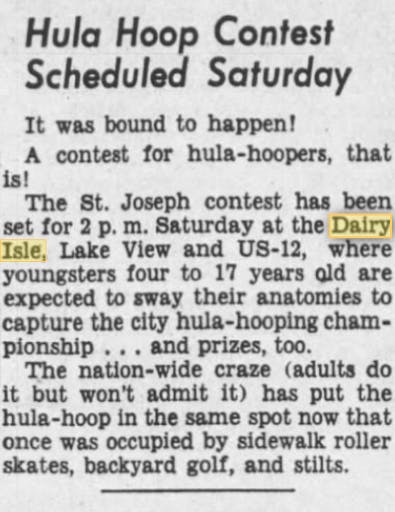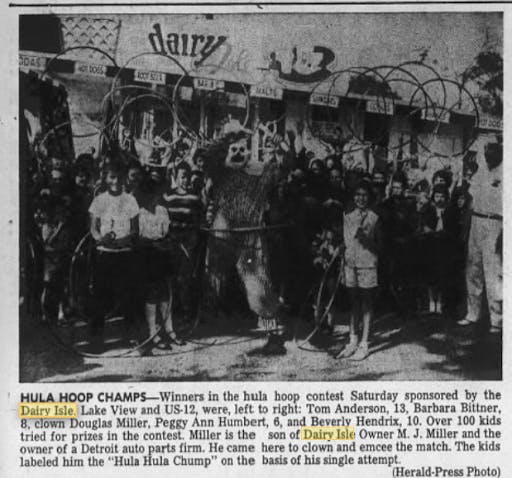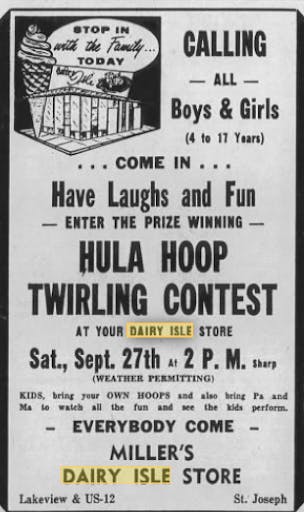 1961 - Hot Box
In September 1961, Dairy Isle had a motor inside overheat, resulting in the entire building filling with smoke. A serviceman was called but no damages were reported.
1961 - Enclosure Installed
In October 1961 store owner Larry Palleschi paid Benton Harbor Tent & Awning Co. to install an aluminum and fiberglass enclosure around the shop's iconic ice cream cone with large windows to protect customers from the weather.
1962 - Truck Hits Building
In October 1962 a postal truck ran into the corner of Dairy Isle on Winchester Avenue, resulting in minor damages to the building. No tickets were issued to the driver
1973 - Dairy Korner
New owners of the Dairy Isle franchise decided to rename the business as it's known today - Dairy Korner.
1977 - Vandals In October 1977
The store was reported to have a 4'x6' window broken with pellet guns and slingshots, estimated to cost around upwards of around $1,000 to repair if broken today, in 2022.
1980 - Faulty Fryer Fire
In June of 1980, Dairy Korner went ablaze. Starting as a result of a deep fryer being triggered by a faulty electrical switch, the damages were estimated to cost around $10,000 (Around the equivalent of $34,000 today). Water and ash residue resulted in the front window display looking like it was covered in the same Hot Fudge it advertised. (Herald-Palladium, 1980)
1981 - Break-In
In August of 1981, Police were called to investigate a break-in at Dairy Korner and reported $60 total (Equivalent to $186 today) was stolen from two cash drawers. The building was entered by cutting open the screen door and unlocking it from the inside.
2014 - Beautiful Korner Art
In 2014 artist Chantelle Elosie Allen painted a beautiful rendition of Dairy Korner. To this day many local children and talented artists draw and paint pictures and rocks for us to display in our storefront!
Slide 1 of 26
Slide 2 of 26
Slide 3 of 26
Slide 4 of 26
Slide 5 of 26
Slide 6 of 26
Slide 7 of 26
Slide 8 of 26
Slide 9 of 26
Slide 10 of 26
Slide 11 of 26
Slide 12 of 26
Slide 13 of 26
Slide 14 of 26
Slide 15 of 26
Slide 16 of 26
Slide 17 of 26
Slide 18 of 26
Slide 19 of 26
Slide 20 of 26
Slide 21 of 26
Slide 22 of 26
Slide 23 of 26
Slide 24 of 26
Slide 25 of 26
Slide 26 of 26